From full roof replacements to full-service roof repairs, we offer customized roofing services to the Indianapolis and Chicago metro areas.
At M&M Home Remodeling Services, we understand the importance of a sturdy and reliable roof over your head. Whether your roof has suffered storm damage, leaks, or general wear and tear over the years, our expert team is here to provide top-notch roof repairing and replacement services.
Our highly skilled and experienced roofing professionals will thoroughly assess the condition of your roof and recommend the most suitable solution for your specific needs. We utilize the finest quality materials and modern techniques to ensure that your roof is restored to its optimal condition. Our commitment to excellence means you can trust us to deliver exceptional results, keeping your home safe and secure for years to come.
Only the Best
We use only the best shingles in the business, this is why M&M's choice of shingles are GAF and OC shingles. M&M is an OC Platinum Preferred Contractor and a GAF Master Elite Contractor, so what does this mean?
Platinum Preferred Contractor
A roofing contractor who has earned a high level of certification and recognition from OC.  To achieve Platinum Preferred status, roofing contractors typically have to meet certain criteria set by Owens Corning.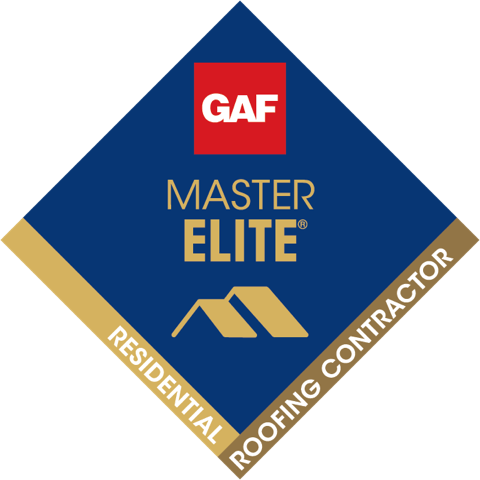 GAF Master Elite Contractor
A mark of roofing excellence. Only 2% of roofers in North America are invited to become GAF Master Elite® Contractors. It can't be bought. It can only be earned.*
Benefits of A New Roof
Investing in a new roof offers a plethora of benefits for homeowners. Not only does it enhance the overall appearance of your property, but it also provides the following advantages:
Increased Property Value: A new roof adds significant value to your home, making it a wise investment for the future.
Energy Efficiency: Modern roofing materials come with improved insulation properties, helping you maintain a comfortable indoor temperature and reduce energy consumption.
Enhanced Safety: New roofs offer enhanced structural integrity, providing better protection for your family and belongings against the elements.
Longevity: With proper maintenance, a new roof can last for decades, saving you money on frequent repairs.
Peace of Mind: Knowing that your home is protected by a reliable and durable roof brings peace of mind, especially during harsh weather conditions.
Why You Should Not Delay
We understand that life can get busy, and sometimes, home improvement projects get pushed to the bottom of the priority list. However, when it comes to your roof, delaying repairs or replacement can lead to significant consequences:
Escalating Damage: Minor issues can quickly escalate into major problems if left unattended. A small leak today could result in extensive water damage and expensive repairs down the line.
Compromised Safety: A compromised roof puts your family and belongings at risk. It may lead to accidents or allow unwanted intruders into your home.
Increased Costs: Delaying necessary roof repairs can lead to higher expenses in the long run. The sooner you address any issues, the more cost-effective the solutions will be.
Voided Insurance Claims: Insurance companies may deny claims for damages that were exacerbated by neglecting timely repairs.
At M&M Home Remodeling Services, we urge you not to delay when it comes to your roof's maintenance. Our dedicated team is ready to assist you promptly, providing reliable services that ensure the longevity and safety of your roof.
What Will My Roof Replacement Cost?
The total roof replacement costs for a new roof will vary depending on the size of the home, the type of roofing material, extra elements such as skylights and chimneys as well as other factors. Read more to see what factors are involved and estimate the cost for your home.
Contact us today 800-930-2905 for all your roofing needs and experience the M&M difference – exceptional service, superior craftsmanship, and unmatched reliability. Your satisfaction and the integrity of your roof are our top priorities!