President & CEO
Nick Yadron
Sales Consultant
Nathan Napier
Nate has been with the company for over 12 years and enjoys golfing, camping, and spending time with his wife and six children.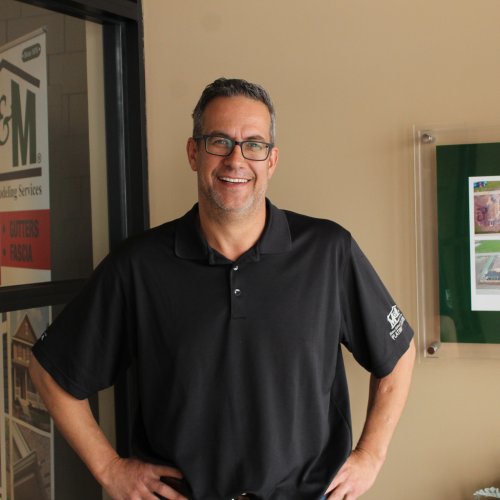 Sales Consultant
Jeremy Lubbers
Jeremy is pretty sure he would make a great millionaire, but he knows his six children have made him a better father. Pepper-gardening is his guilty pleasure, along with chocolate, steak, doughnuts, sleeping, and books. He wears glasses but doesn't claim to be all that smart.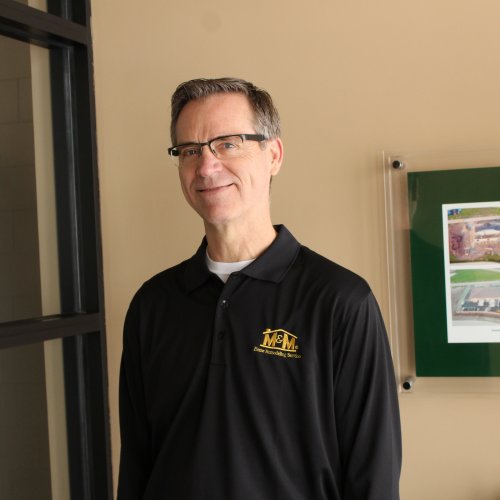 Sales Consultant
Jim Kresach
Jim brought 20+ years of experience in the home improvement industry prior to coming to M&M in 2002. Jim & his wife Grace have lived in the Homewood-Flossmoor area since 1983 and are the proud parents of six daughters. Outside of work Jim enjoys relaxing with family, traveling, attending sporting events and playing golf.
Sales Consultant
Trace Teske
Trace has been with M&M for over 5 years with knowledge on all products and services available. He recently got married to his wife, Stephanie, and they have a dog named Sadie. In his free time, Trace enjoys traveling, playing golf, and spending time with his friends and family.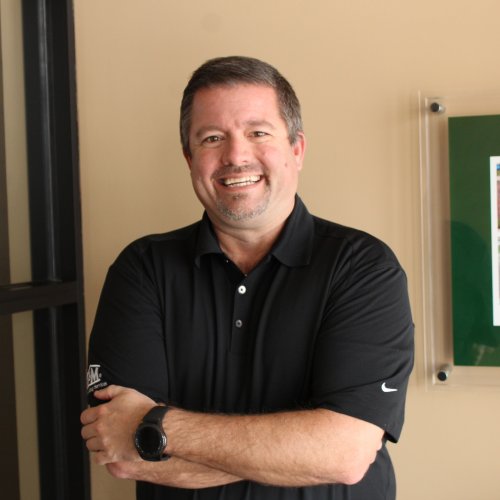 Director of Operations
David Conwell
David has been with M&M for two years. When not working, he enjoys spending time with his family and friends, home remodeling projects, golfing, playing hockey, and reading. He also has a dog named Tessa.

Sales Consultant
Brett Friedman
Like many in the office, Brett loves watching sports (particularly the Bears and the Cubs), playing golf, and spending time with his family.
Sales Consultant
Ryan Kelley
Originally from Southern Indiana, he's been with his wife for 21 years and they have two young boys who keep him busy. He's been with M&M for 2 1/2 years and spends his free time with his kids' extracurricular activities. When he has time for himself, Ryan likes small crafts, cooking/baking, voice acting, educational podcasts and movies.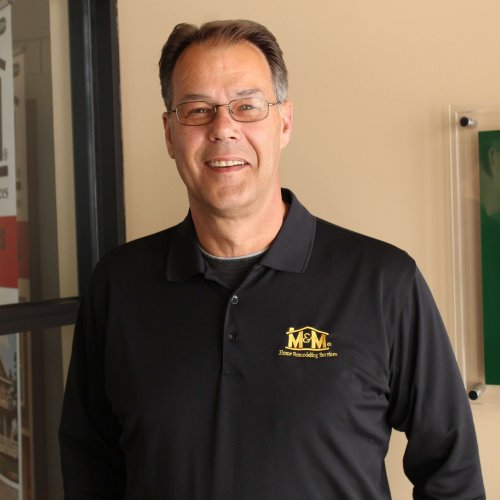 Sales Consultant
Mike Peters
Mike has been a member of the M&M team since 2013. He came to use with over 20 years of residential and commercial renovation experience.
He has been an M&M Platinum winner multiple years since joining us.
He enjoys time with his family and friends.
Superintendent
Jorge Curiel
Jorge has been with M&M for over 12 years and is a die-hard White Sox and Bears fan.
Graphic Designer/Marketing Assistant
Marisol Flores
Marisol and her husband live in Hobart, Indiana with their 17-year-old daughter and 16-year-old son. She loves playing soccer, mountain biking, camping (she just bought a camper last year), watching her daughter do gymnastics and cheering on her son at his soccer games.
Human Resource Specialist
Danielle Pence
Danielle loves her free time and the sunshine. She likes to play softball and hang around with her children (she has three daughters and one son).
Administrative Sales Assistant
Kathy Brunger
Kathy is an avid Chicago White Sox and Bears fan. She has one daughter and two grandchildren.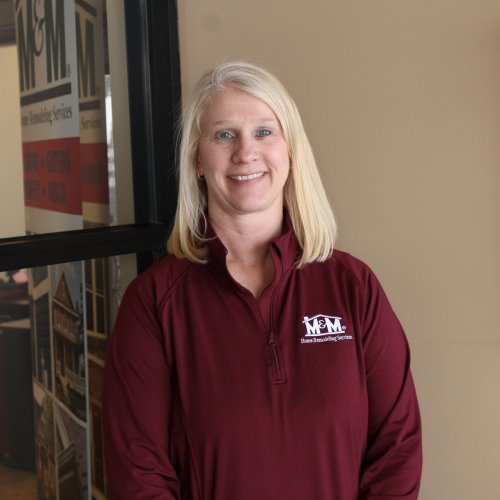 Accounts Payable Specialist
Karin Ipema
Karin likes to read in her free time and also likes cheering on her favorite sports teams (White Sox and the Seattle Mariners). Originally from the West Coast, she now calls Chicagoland home.
Accounts Receivable Specialist
Kim Wichert
Kim is a HUGE sports fan (her favorite teams in order: White Sox, Red Sox (close 2nd), Patriots). When she's not rooting on her favorite teams, she likes to spend time with her boyfriend, family and likes going to concerts.
Controller
Robin Huizenga
Robin has been an integral part of the M&M team for over 10 years. In her free time, she likes playing tennis, cross-stitching, LOVES the sun (sitting on the beach specifically) and spending time with her 15 year old daughter.
Director of Sales
Jeff Smith
Residents of the NW suburbs, Jeff and his wife Carlie recently welcomed their first son. Outside of work, he enjoys spending time with them, golfing, and playing softball.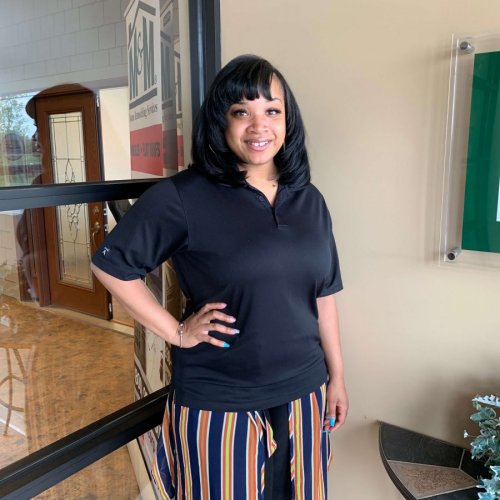 Call Center Representative
Christina Vaughn
I am a singer and songwriter of over 400 original songs and I'm currently writing two amazing books. I love luxury and all things that pertain to creativity and art. I love God, myself and others and I'm super excited to be a part of this awesome M&M team! Oh, did I mention that I could eat tacos every day?
Call Center Representative
Nina Shelton
Nina loves working with people.  She is excited to be apart of a business that cares about people's needs, customer service, and quality!  She loves music and singing. She is an upcoming gospel recording artist with new music on music outlets. She is a wife and mother with 7 beautiful children. She is passionate about her family, ministry, and career! 
Sales Consultant
Greg Benish
Greg has been a lifelong resident of The Greater Chicagoland and NW Indiana area. He studied at Purdue University, and has had a career dedicated to Customer Sales and Service. He has three children and enjoys spending time doing outdoor activities with them, and hunting in the fall. In a former lifetime he was a chef, and has a passion for cooking.

Branch Manager
Kevin Corsello
Kevin joins M&M with over 20 years of serial entrepreneurship, management, and leadership experience. As a graduate and alumni of Harvard Business School, Kevin brings both a real-world and academic business acumen to lead M&M's new Arlington Height's team and location as M&M continues to grow nationally. Kevin also holds several mechanical patents, is an Ironman athlete, and a second-degree black belt in martial arts. Kevin enjoys free time with his wife and their 3 daughters.
Sales Consultant
Brad Hoffman
I love the work I do. Ive been in exterior remodeling for about 10 years becoming an expert in roofing, siding, and windows. In my off time I enjoy watching sports, camping, and spending time with family.
Sales Assistant & IP Coordinator
Alexandra King
While Alexandra is new here at M&M, she came to us with 2 years of marketing experience. In her free time, she loves visiting the city with her boyfriend and spending time with her dog. She plans on starting college in the fall studying human resources.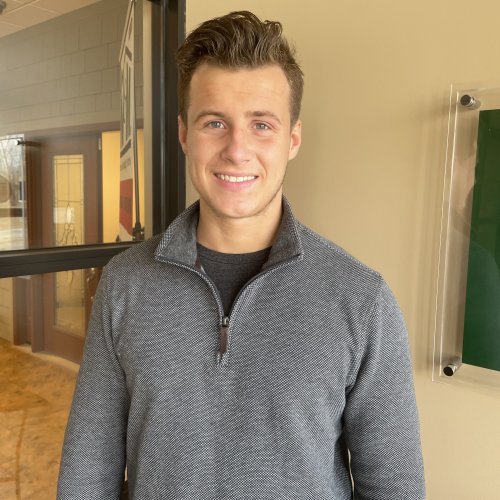 Sales Consultant
Evan Howe
Hello everyone, my name is Evan Howe I am a sales consultant at M&M. A little about myself is I'm from South Dakota born and raised. I've lived in Minneapolis Minnesota, and Milwaukee Wisconsin, and now Chicago. I have 9 brothers and sisters, and my passions are performance vehicles, home design, and fashion. I love meeting new people and trying new things. I live in the city with my husky pup Ghost!
Sales Consultant
Joshua Derungs
Joshua resides in Orland Park with his wife and little dog Tazzy (an adorable beagle terrier mix).
He enjoys spending time skiing in winter, biking in summer and spending time with family.
Sales Consultant
Andrew Kalinowski
I was in the restaurant industry for 12 years before coming to M&M as a server and the last 5 years was as a manager! I have a 4-year-old son, Julian and he keeps me on my toes! Outside of work I love cars and trucks (Ford) I also enjoy exercising, going to as many White Sox and Bears games as I can, and spending time with my family!
Sales Consultant
Franklin Lello
My name is Franklin Lello, I'm from the south side of Chicago but I'm a diehard Cubs fan. Love Da Bears. I have 2 dogs and a 4 year old daughter that loves fishing more than I do. We like taking random road trips specially to places we've never been to before.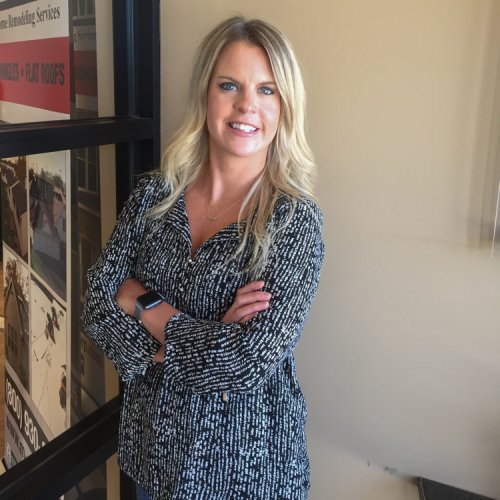 Talent Acquisition Specialist
Meghan MacFadden
Meghan joins the M&M team with 7+ years of previous talent acquisition and recruiting experience. Residing in Streeterville, Meghan spends her free time biking the lakefront, cheering on her KC Chiefs or KU Jayhawks, and volunteering with organizations like Genesys Works Chicago and the Chicago Help Initiative to bring support to underserved parts of the city.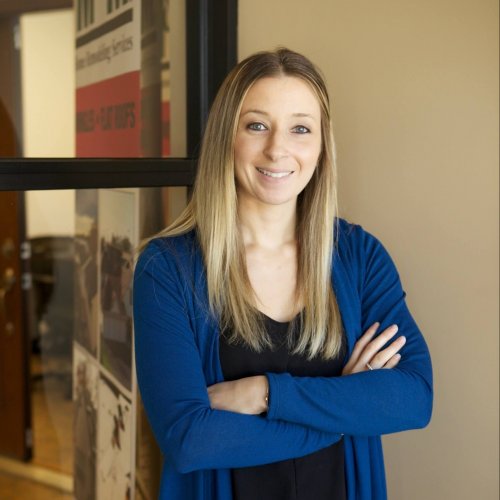 Executive Assistant
Dee Pusara
Dee has 5+ years of executive assistant experience and also holds her real estate license in Indiana.  Her and her husband have a 3 month old son who is their little miracle baby.  
She went to UW-Milwaukee and grew up in Wisconsin.  Cooking, traveling, CrossFit, crafting, and baking specialty cupcakes are things Dee really enjoys to do along with spending time with her family and friends.
Director of Administration & Finance
Kristi Yadron
Kristi has been with the company for 21 years. She was brought in when she became a part of the Yadron family and has been involved with the business ever since. She has 3 wonderful boys – the 2 oldest play hockey and the youngest is the musician and plays the piano and violin. She enjoys reading, traveling, and spending time with her family.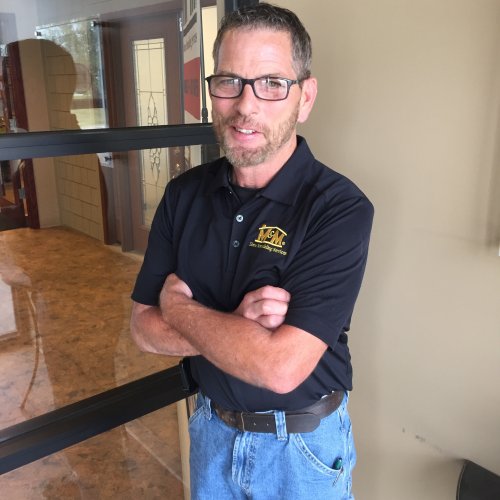 Superintendent
Daniel Crane
Daniel Crane holds 34 years experience as a residential and union construction carpenter and superintendent. He also has spent 27 years as volunteer deputy chief/ paramedic on the Illinois Fire Department. Dan is a Fire Safety Instructor for Nascar and enjoys spending time with his three children, playing hockey and fishing. 
Call Center Representative
Antoine Bradley
Father of twins. Likes the Bears and Cubs, going to the gym and is a student at CCNA.
Compliance Specialist/Job Scheduling
Ricquel Hackler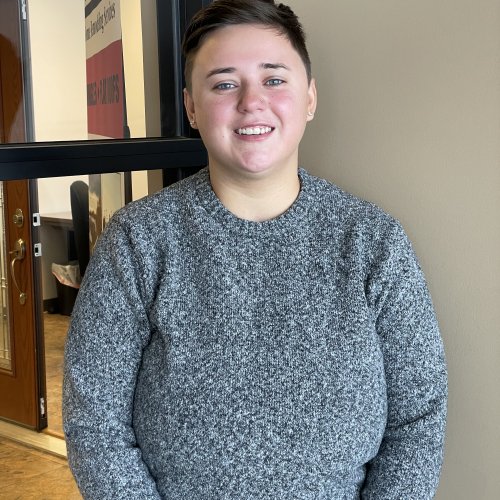 Marketing Specialist/Graphic Designer
Jessica Debulski
Jessica is a graduate of the American Academy of Art. New to M&M but is excited to join the design team. She's been a Cubs fan since the day she was born. In her free time, she enjoys reading and a nice brunch in the City.
Sales Consultant
Jalen Chanthaboury
Jalen is currently the youngest member of the M&M sales team. He enjoys family barbecues, playing basketball, sunny bike rides, getting groovy at weddings, and eating delicious fried chicken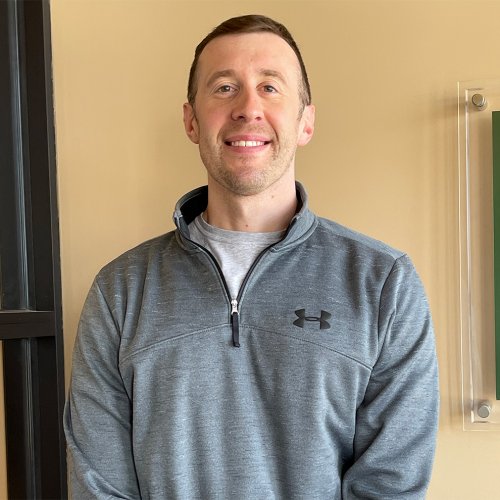 Sales Consultant
Mike Buczek
Mike is a lifelong Region Rat. He lives by the 3 "S's". Sports, Seinfeld and Superheroes. His superpowers would include-being empathetic, active listener, making people laugh and using his turn signal properly. Dislikes are rollercoasters, seafood and waking up before his alarm.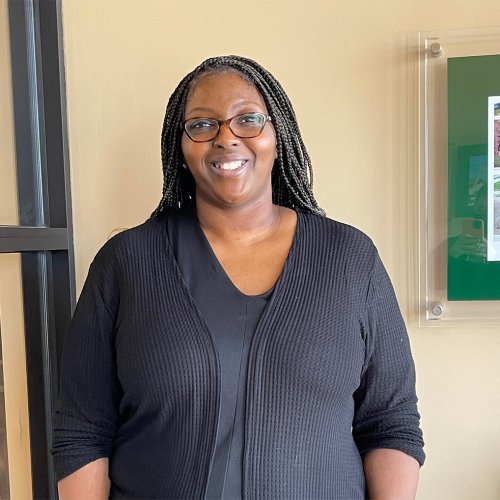 Call Center Manager
Charise Taylor
I have owned and operated 2 successful business and have 20 + years in Customer Experience, management, inside and outside sales. I am passionate about providing Best in Class Service from the first interaction. I am all about family and love spending time with them. My signature color is pink, I love all things sports, cooking, baking and creating. I am excited to join the M&M family!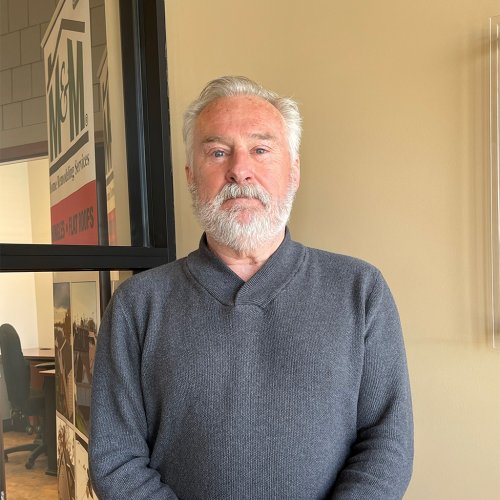 Sales Consultant
Rick Malley
I have worked as a director of sales and construction for a large multi-national Manufacturer providing design consulting on large commercial projects in the US and abroad.
Administrative Sales & Production Assistant
Selena Galvin
I recently graduated from the University of Minnesota with a B.A in English and Journalism. I taught as a teaching fellow for two summers at Breakthrough Twin Cities during my time in Minnesota. In my free time I like listening to music, reading, and going for drives!