High-Quality Roof Replacements. Lifetime Performance.
With industry-leading roofing systems, we make the process of getting a replacement roof on your home simple and stress-free.
Throughout Chicago, roofing replacement is an often necessary part of homeownership—making it important that you choose a high-quality system from a trusted company when it's time to invest in this essential feature for your home. With the professionals from M&M Home Remodeling Services, you can expect the best with your roof replacement services, and we're proud to be an award-winning, BBB-accredited company that offers industry-leading roofing products to help ensure your home is protected for a lifetime.
Backed By The Biggest Names In The Business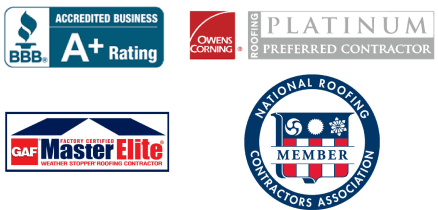 The Best In The Business Since 1976
But You Don't Have To Take Our Word For It
Chris Tempelman
September 26, 2022.
The team was able to schedule me out quickly. The customer service was friendly and super helpful. Highly recommend M&M.
Natilee Simon
September 24, 2022.
I had windows installed and had a great experience from day one starting with the salesman Jim K. He was very knowledgeable, helpful and responsive if I had any follow up questions. The price was reasonable compared to other estimates I received. I really appreciated the company emails sent to let me know where we were in the process at all times. On installation day, the workers were on time, professional & did quality work! I would definitely recommend them to family & friends just as they were recommended to me.
Charles Gibbs
September 22, 2022.
The crew was very prompt, well organized, and left everything clean.
Marla Demarco
September 22, 2022.
Professional, good price, did a good job on my roof, thank you
Rosalie Rempert
September 22, 2022.
Woody Melton
September 20, 2022.
Thank you so much for the excellent work you done on my house, the workers did a fabulous job , and they was very nice and helpful, I will be happy to recommend M&M Home Remodeling to all my friends and family....
Ronald Bulliner
September 16, 2022.
The whole process was wonderfully performed. Great job done by Hector & Abtonio! They took the extra steps to clean up because we have a dog & they didn't want him stepping on something that would cause problems. Great job all the way through!
Robert Quintero
September 15, 2022.
5+ Stars for the entire team at M&M Home Remodeling! I remember the first day I had given them a call to set up an estimate for a front entry door and storm door. Wow, what a great first impression! From there, my sales rep Mitch, was just on point, knowledgeable and very patient with us (new home owners) He walked us thru 100% of our project and allowed us to really pick out the ideal products. I remember I got the quote for November and was always hoping it would be sooner. IT WAS!! 2 months wait (versus 4-5 months) and they installed everything perfectly! We love the new door. 4 hours of labor and boom! Came out beautiful. I will be using this company and referring many people to them!!
Matt Stinnett
September 12, 2022.
Edward Romic
September 12, 2022.
M&M conducted themselves in a very professional way from the salesperson, Greg, to the Superintendent, Joe. They keep us informed with scheduling with emails & Txt's from the beginning to the end of the new roof being installed. Cleanup & installation was done with no problems. Would highly recommend them for future jobs.
High-Quality Replacement Roofs Designed for Lifetime Value
The replacement roofers at M&M understand the unique needs of local residents when it comes to choosing the right system to handle the unpredictable climate of the area. Since 1976, we've been offering replacement roofs that are fully designed to address the needs, style, and budget of each of our customers, and all of our high-quality products are engineered to be:
Energy-Efficient: The replacement roofs that we install are designed to maximize the efficiency of your local home—saving you money and extending your roof's lifespan.
Fully Customized: Every home has its own unique style, and our roofs are designed to perfectly complement your architecture for stunning curb appeal and enhanced home value.
Highly Durable: With our asphalt shingle products from top brand names, you can count on your new roof to resist severe weather, extreme temperatures, and decades of wear and tear.
Guaranteed for Life: At M&M, we are proud to offer lifetime warranties on all of our roofing replacements—getting you the highest value for your investment.
Expertly Installed: As award-winning replacement roofers, our team has the certifications and experience needed to ensure that your new roof is installed seamlessly!
As an award-winning roofing contractor that is licensed, bonded, and insured, you can rely on our team to provide you with full-service support for all of your roofing needs!
Get Started Today with a Free Quote for Professional Roofing Replacement
When it comes to home roofing in Chicago that will stand the test of time, there is only one name that you need to know—M&M Home Remodeling Services! To get more information about the innovative roofs and professional replacement services that we offer, give us a call today! You can also get set up with an appointment for a free quote and consultation by filling out our online form now.